Atalho para usar quando você está trabalhando como Excel. Usando uma combinação de atalhos no teclado podemos executar rapidamente a função 'soma()'. Nesta postagem iremos mostrar como utilizar a auto-soma em várias células ao mesmo tempo utilizando seleção múltipla junto com o 'Alt'.
Cenário 
Aqui temos um cenário simples: planilha de Excel com múltiplos números para vários meses espalhado por várias partes. Queremos fazer a soma de todas as sequências dos valores para cada mês, rapidamente, sem escrever a função '=soma()' abaixo da sequência de cada mês.
As setas na imagem mostram onde queremos mostrar as somas.
Como fazer isso?
Bem, primeiro vamos fazer as múltiplas seleções nas células abaixo de cada sequência de número de cada mês
1) Pressionando o 'Ctrl' no teclado, clique nas células abaixo de cada sequencial de números de cada mês para selecionar: [Ctrl] + clique;
2) Com as células selecionadas "solte" o 'Ctrl', aperte o 'ALT' e simultaneamente o '=': [Atl] [=].
A combinação 'Alt='  irá automaticamente adicionar a função '=soma()'  abaixo de cada sequencial de número de cada mês. Por exemplo, para a primeira coluna no exemplo abaixo, o sequencial de soma será '=soma(A2:A4)'.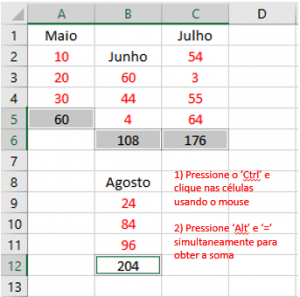 A tradução deste artigo/dica foi gentilmente autorizada por Arun Banik  do blog encodedna.com e você encontra o seu original em  How to AutoSum Multiple Ranges in Excel using ALT Key and Multi-Select.